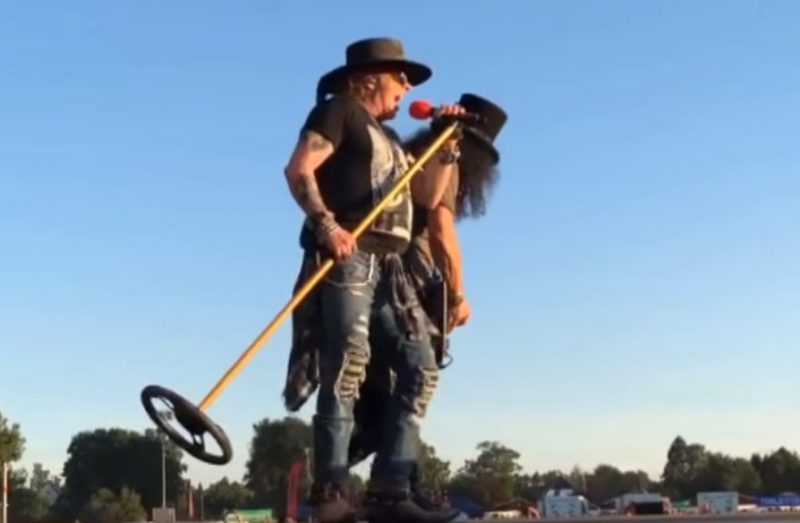 In Odense spielten Guns N' Roses erstmals seit 31 Jahren wieder ›Shadow Of Your Love‹. Außerdem gab's einige Coverversionen, darunter erneut ›Slither‹ von Velvet Revolver.
Die Europa-Tour 2018 von Guns N' Roses ist in die zweite Runde gegangen: Nach ihrer Show in Berlin am vergangenen Sonntag (3. Juni) standen Axl Rose und Kollegen gestern Abend im dänischen Odense auf der Bühne.
Und dort gab's eine echte Rarität zu hören. Erstmals seit 1987 stand ›Shadow of Your Love‹ auf dem Programm. Der Song, der im Zuge der Aufnahmen zu APPETITE FOR DESTRUCTION entstanden ist, dient als Single zur Jubiläums-Edition des Albums, die Ende Juni erscheint.
Neben vielen Gunners-Klassikern (siehe Setlist unter den Videos) gab's wie schon in Berlin mehrere Coverfassungen, darunter ›Slither‹ von Velvet Revolver, Glen Campbells ›Wichita Lineman‹ und ›Wish You Were Here‹ von Pink Floyd.
Fan-Videos von Guns N' Roses in Dänemark:

Die Setlist:
It's So Easy
Mr. Brownstone
Chinese Democracy
Welcome to the Jungle
Double Talkin' Jive
Better
Estranged
Live and Let Die
Slither
Rocket Queen
You Could Be Mine
New Rose
This I Love
Shadow of Your Love
Civil War
Slash Guitar Solo
Speak Softly Love (Love Theme From The Godfather)
Sweet Child O' Mine
Coma
Wichita Lineman
Wish You Were Here
November Rain
Black Hole Sun
Knockin' on Heaven's Door
Nightrain
Zugabe:
Don't Cry
The Seeker
Paradise City