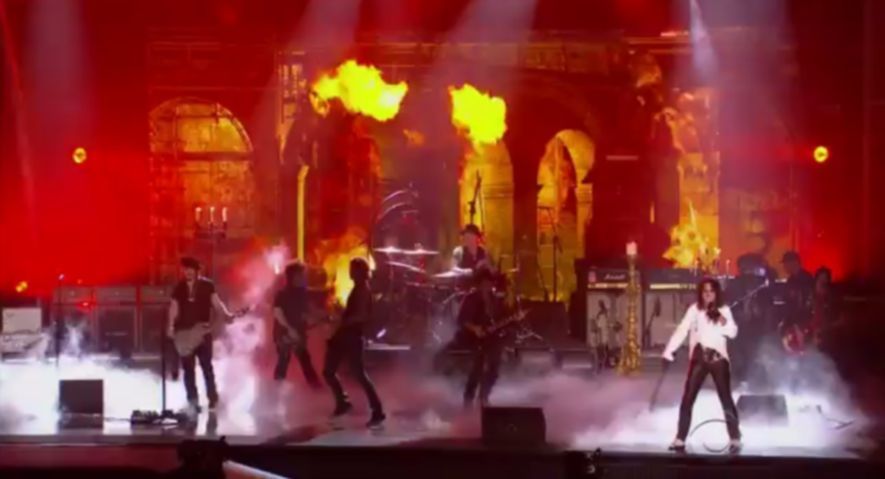 Bei den gestrigen Grammys überrollten die Hollywood Vampires das Pop-Publikum mit einer furiosen Version von Motörheads ›Ace Of Spades‹. Seht hier den Auftritt und lest, welche "Rock-Gewinner" es gestern gab.
Neben Tribute-Auftritten für die kürzlich verstorbenen Künstler Glenn Frey und David Bowie ehrte die Allstar-Truppe um Alice Cooper, Johnny Depp und Joe Perry (Aerosmith) den am 28. Dezember 2015 von uns gegangenen Motörhead-Frontmann Lemmy Kilmister.
Unterstützt von Matt Sorum (Ex-Guns N' Roses) und Duff McKagan (wieder Guns N' Roses) starteten die Hollywood Vampires mit ihrem eigenen Song ›As Bad As I Am‹, um danach in eine rasante Version des Motörhead-Klassikers ›Ace Of Spades‹ zu starten.
Seht hier die Performance der Hollywood Vampires:

Zu den großen Gewinnern der Rock-relevanten Kategorien zählten nicht nur die Alabama Shakes, die gleich vier der kleinen Grammophone überreicht bekamen, sondern auch die schwedischen Okkult-Rocker von Ghost ("Best Metal Performance") sowie Chris Stapleton ("Best Country Album" und "Best Country Solo Performance").
Hier die Liste der "Rock-Gewinner" 2016:
Best Rock Album: Muse, Drones
Best Metal Performance: Ghost, Cirice
Best Rock Song: Alabama Shakes, Don't Wanna Fight
Best Rock Performance: Alabama Shakes, Don't Wanna Fight
Best Alternative Music Album: Alabama Shakes, Sound & Color
Best Engineered Album, Non-Classical: Alabama Shakes, Sound & Color
Best Blues Album: Buddy Guy, Born to Play Guitar
Best Country Album: Chris Stapleton
Best Country Solo Performance: Chris Stapleton
Best Surround Sound Album: James Guthrie and Joel Plante, Amused To Death (Roger Waters)
Best Historical Album: The Basement Tapes Complete: The Bootleg Series Vol. 11 (Bob Dylan)
Hier werden Ghost mit dem Grammy für die "Beste Metal Performance" ausgezeichnet: