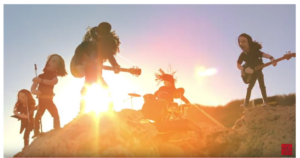 Slash ft. Myles Kennedy and the Conspirators haben heute das neue Video zu ›Driving Rain‹ veröffentlicht: ein animiertes Action-Abenteuer mit Stoffpuppen.
Slash beschreibt den Dreh des spaßigen Clips wie folgt: "Die Idee, ein animiertes Video zu ›Driving Rain‹ zu machen, entstand vor allem deswegen, weil das dunkle Thema des Songs die Regisseure zunächst dazu brachte, sehr dramatische, düstere und missmutig normale Live-Action-Scripte vorzulegen, an denen nichts Spaß machte". "Ich will sie nicht kränken – aber ich wollte ein Video kreieren, das einen ironischen Unterton hat, aber trotzdem düster ist und Live-Animationen enthält".
Nur zur Info: Keine Puppen kamen während des Drehs dieses Videos zu Schaden!
Slash feat. Myles Kennedy and the Conspirators live:
07.02 Offenbach, Stadthalle
03.03 Hamburg, Sporthalle
04.04 Berlin, Verti Music Hall