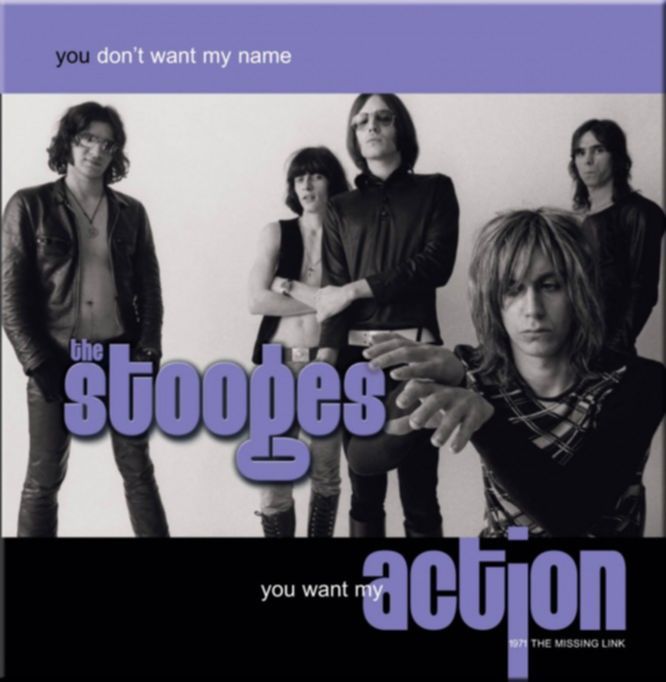 Rare Artefakte, nur für Diehard-Fans geeignet.
Aufmerksamen Stooges-Fans dürfte nicht entgangen sein, dass zwischen THE STOOGES (1969) und FUN HOUSE (1970) einerseits sowie RAW POWER (1973) andererseits eine rund dreijährige Kreativpause liegt. In jener Phase stieg nicht nur der Konsum von Heroin, Alkohol und Tabletten, es veränderte sich auch die klassische Vierer-Besetzung: Für Bassist Dave Alexander kam Jimmy Recca, und Ron Asheton arrangierte sich mit James Williamson zum unschlagbaren Gitarren-Duo. Überlebt haben aus dieser Ära des Umbruchs keinerlei Studioproduktion, aber es existieren einige Konzertmitschnitte.
Vier dieser obskuren Artefakte finden sich nun inklusive Buch sowie Repliken von Polaroids und Tickets auf der auf 1000 Stück limitierten Box YOU DON'T WANT MY NAME… YOU WANT MY ACTION. Aufgezeichnet in Detroit, New York und St. Louis im April und Mai 1971, rackerte sich das Quintett jeden Abend durch die immer gleiche Set-Liste, von der lediglich ›I Got A Right‹ im Langzeit-Repertoire überlebte. Ein optisch schon ganz auf den Glam-Rock eingeschworener Iggy Pop tauchte öfter mal minutenlang im Publikum ab oder verzog sich wegen offensichtlich massiver Entzugserscheinungen gleich ganz in die Garderobe. Derweil rotierte die Rest-Band durch instrumentalen Prä-Punk wie ›Fresh Rag‹, ›Children Of The Night‹ oder das von ›Big Time Bum‹ in die Impotenzklage umgetitelte ›Over My Dead Cock‹.