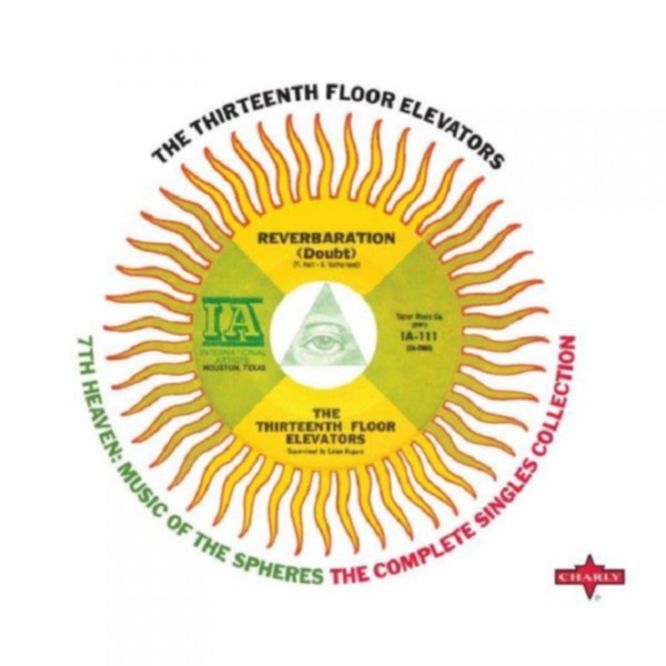 Definitive Singles-Kollektion der Garagenrocker.
Drei Studioal­ben und ein Konzertmit­schnitt in zwei Jahren genüg­ten, um das texanische Garagen-Quintett um Sänger, Gitarrist und Komponist Roky Erickson in den Annalen der Rock-Historie zu verewigen. Mit 7TH HEAVEN: MUSIC OF THE SPHERES liegen endlich jene raren Mono-Mixe vor, die auf Börsen und Auktionen als 7-Inch-Singles schon seit Jahrzehnten absolute Höchst­preise erzielen. Mehr als 45 Jahre nach ihrer Entstehung zünden Garagenrocker wie ›You're Gonna Miss Me‹, ›Reverberation (Doubt)‹, ›She Lives (In A Time Of Her Own)‹, ›Slip Inside This House‹ und ›May The Circle Remain Unbroken‹ noch immer ganz hervorragend.
Ihr Urheber Roky Erickson, der gerne als das amerikanische Gegenstück zu Pink-Floyd-Gründer Syd Barrett betrachtet wird, genießt seitdem Kultstatus, der durch zeitweilige Inhaftierungen und Zwangsaufenthalte in der Psychiatrie nur noch gesteigert wurde. Eigenwillige Cover von Bob Dylans ›It's All Over Now Baby Blue‹ und Bo Diddleys ›Before You Accuse Me‹ sowie vier extrem rare Stereo-Mixe (drei echt, einer gefälscht!) der FRENCH RIVIERA EP machen die Kollektion zum Muss.