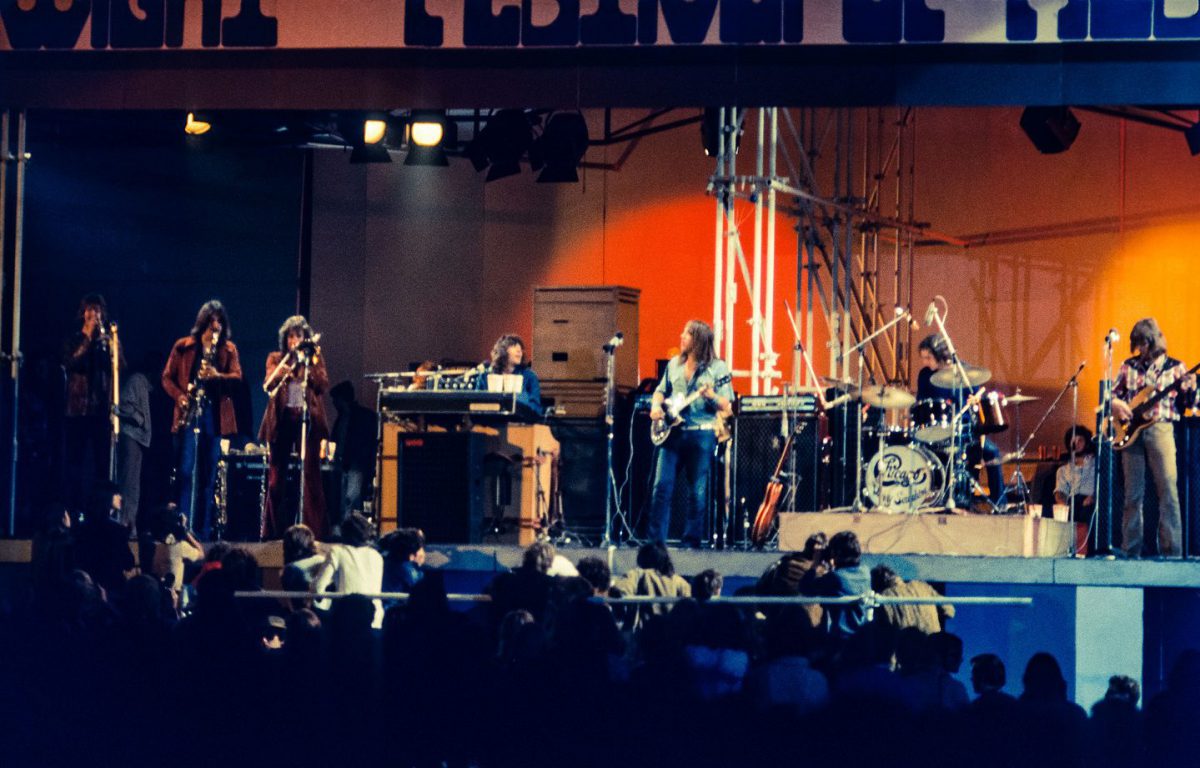 Im April erscheint das Box-Set CHICAGO: VI DECADES LIVE mit nie veröffentlichtem Konzert-Material. Bei uns gibt's daraus exklusiv ›25 Or 6 To 4‹ zu hören, aufgenommen 1969 in Paris.
Die Songs auf CHICAGO: VI DECADES LIVE stammen aus den Jahren von 1969 bis 2014 und ermöglichen so einen Überblick über das Live-Schaffen der Band, 50 Jahre nach ihrer Gründung.
Neben der kompletten Chicago-Show beim Isle of Wight Festival 1970 auf den ersten beiden CDs gehört eine DVD mit dem Auftritt im Rockpalast 1977 in voller Länge zu den Highlights des Sets.
CHICAGO: VI DECADES LIVE kommt am 6. April als 4CD/1DVD-Set heraus. Vorab gibt es ein rauschhaftes ›25 Or 6 To 4‹ live 1969 aus Paris zu hören.
Chicago live mit ›25 Or 6 To 4‹:
CHICAGO: VI DECADES LIVE (THIS IS WHAT WE DO)
Track Listing:
Disc One: Isle Of Wight Festival (8/28/70) *
1. Introduction
2. South California Purples
3. Beginnings
4. In The Country
5. Does Anybody Really Know What Time It Is?
6. Mother
Disc Two: Isle Of Wight Festival (8/28/70) *
1. It Better End Soon
2. Ballet For A Girl In Buchannon
3. 25 Or 6 To 4
4. I'm A Man
Disc Three *
1. Poem For The People (Paris, France, 8/14/69)
2. 25 Or 6 To 4 (Paris, France, 8/14/69)
3. Liberation (Paris, France, 8/14/69)
4. Goodbye (The John F. Kennedy Center For The Performing Arts, Washington D.C., 9/16/71)
5. Now That You've Gone (Hordern Pavilion, Sydney, Australia, 6/26/72)
6. A Hit By Varèse (Chicago Stadium, Chicago, IL, 8/13/73)
7. Takin' It On Uptown (Oakland Coliseum, Oakland, CA, 12/1/77)
8. If You Leave Me Now (Oakland Coliseum, Oakland, CA, 12/1/77)
Disc Four *
1. Hot Streets (Greek Theater, Los Angeles, 8/11/78)
2. Little One (Greek Theater, Los Angeles, 8/11/78)
3. Forever (Pensacola Civic Center, Pensacola, FL, 3/21/87)
4. Medley: In The Midnight Hour/Knock On Wood/I'm A Man/Get Away (Pensacola Civic Center, Pensacola, FL, 3/21/87)
5. You're Not Alone (Starplex Amphitheater, Dallas, TX, 5/30/92)
6. The Pull (Caesar's Palace, Las Vegas, NV, 3/20/94)
7. In The Mood (Caesar's Palace, Atlantic City, NJ, 7/28/94)
8. Don't Get Around Much Anymore (Caesar's Palace, Atlantic City, NJ, 7/28/94)
9. Look Away (A&E Network, Live By Request, 9/5/02)
10. America (WHYY, The Grand, Wilmington, DE, 5/7/14)
DVD: Rockpalast (2/12/77) *
1. Anyway You Want
2. Saturday In The Park
3. Skin Tight
4. Just You 'n' Me
5. Hope For Love
6. You Are On My Mind
7. Does Anybody Really Know What Time It Is?
8. Ballet For A Girl In Buchannon
9. Beginnings
10. Scrapbook
11. A Hit By Varèse
12. Call On Me
13. Takin' It On Uptown
14. If You Leave Me Now
15. Once Or Twice
16. (I've Been) Searchin' So Long"/"Mongonucleosis
17. 25 Or 6 To 4
18. Got To Get You Into My Life
19. I'm A Man
* Previously Unreleased