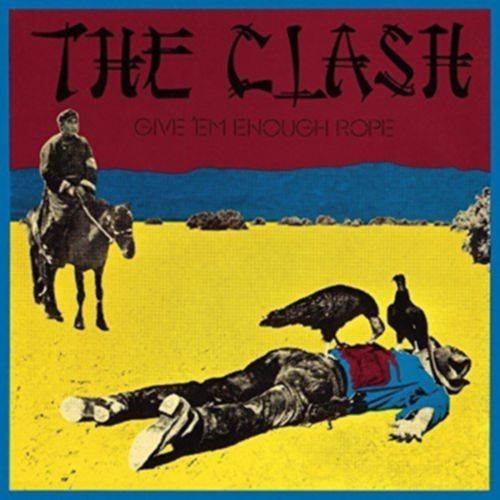 The Clashs Zweite setzte 1978 auf Stilerweiterung und Ironie.
Recht rasch nach der Gründung 1976 im Zentrum der Londoner Punk-Be­wegung potenzierte sich The Clashs Drang, den allzu archaischen Klängen zu entsagen. Als die in Freundschaft verbundenen Kontrahenten Sex Pistols Anfang 1978 nach vier exzellenten Singles und dem LP-Meilenstein NEVER MIND THE BOLLOCKS ausgerechnet auf US-Tournee in der Hippie-Enklave San Francisco implodierten, blieb das Quartett um die Frontmänner Joe Strummer und Mick Jones in der Spur.
Was unter Punk-Puristen seinerzeit noch Schnappatmung auslöste, lässt sich längst als cleverer Schachzug abhaken: Für den im November 1978 erschienenen, in London und San Francisco eingespielten Zweitling GIVE 'EM ENOUGH ROPE engagierten The Clash ausgerechnet den amerikanischen Produzenten San­dy Pearlman (u.a. Blue Öyster Cult, Mahavishnu Or­­chestra, Pavlov's Dog, The Dictators). Versiert verpasste Pearlman Aufrührerischem, Anklagendem und Anarchistischem wie ›Safe European Home‹, ›English Civil War‹, ›Last Gang In Town‹ und ›Tommy Gun‹ nicht nur ein wesentlich satteres Klangbild, sondern arbeitete auch Pop-, Folk- und Rock-Phrasen mit ein.
Beim Pop-Ohrwurm ›Julie's Been Working For The Drug Squad‹ klimperte lässig ein Boogie-Woogie-Piano, für die augenzwinkernde Terror-Reportage ›Guns On The Roof‹ – Bassist Paul Simon­on und Schlagzeuger Topper Headon hatten vom Dach ihres Hauptquartiers in Londons Camden Market mit Luftgewehren auf Tauben geschossen – reanimierte das Riff von The Whos ›I Can't Explain‹. Vom Glam Rock infiziert zeigten sich ›Drug Stabbing Time‹ und sowie das Mott The Hoople, David Bowie und Ian Dury gewidmete ›All The Young Punks (New Boots And Contracts)‹.
8/10
The Clash
GIVE ´EM ENOUGH ROPE
COLUMBIA/SONY