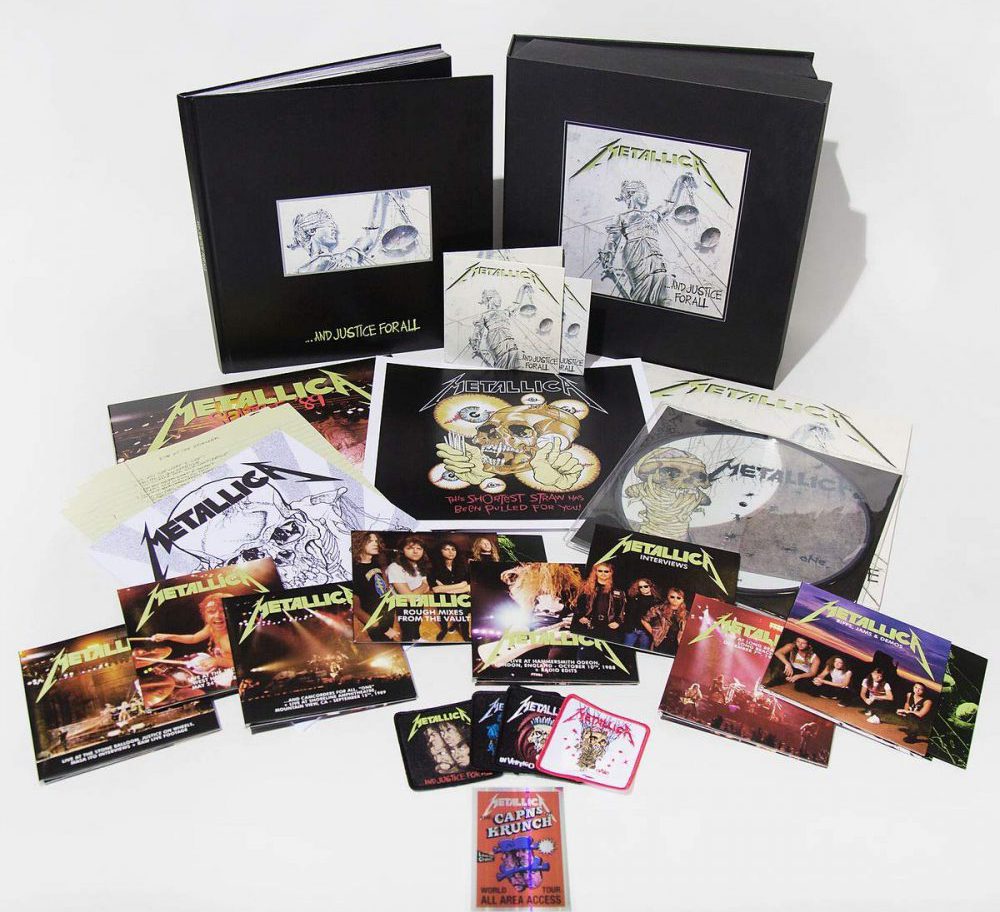 Luxus-Boxset mit elf CDs, sechs LPs und vier DVDs.
Acht Millionen verkaufte Einheiten allein in den USA notierte die Recording In­­dustry Association Of America bereits 2003 für Metallicas viertes Studiowerk …AND JUSTICE FOR ALL – mittlerweile dürften noch einige Millionen Exemplare weltweit hinzugekommen sein. Das opulent ausgestattete DELUXE BOX SET (REMASTERED), dessen Inhalt sich auf immerhin elf CDs, sechs LPs und vier DVDs verteilt, dürfte weiteren Superlativen zuträglich sein. Dabei gilt das ursprünglich mit neun Tracks bestückte erste Album mit Neuzugang Jason Newsted am Bass, der den 1986 tödlich verunglückten Cliff Burton ersetzte, als nicht unumstritten. Moniert wurde vor allem die sterile Produktion von Flemming Ras­mussen, der allerdings das finale Klangbild auf seine Abwesenheit beim Mixing zurückführt.
Ob nun geglückt oder nicht, letztendlich reihte sich das komplexe Werk mit den Konzertfavoriten ›One‹, ›Harvester Of Sorrow‹ und ›Eye Of The Be­­holder‹ in den weltweit schwindelerregenden Erfolgstaumel ein, der 1991 in METALLICA mündete, dem kreativen wie kommerziellen Höhepunkt von James Hetfield, Kirk Hammett, Jason Newsted und Lars Ulrich. In der Vinyl-Ausgabe finden sich das auf vier LP-Seiten verteilte Original, eine Pic­ture-Disc mit famos balladeskem ›One‹ und einem Live-Mitschnitt von ›Seek & Destroy‹ sowie die fulminante Triple-LP LIVE – SEATTLE '89. In der CD-Sektion reiht sich das Original an eine IN­­TERVIEWS-Scheibe und ein Doppel-Format na­­mens RIFFS, JAMS & DEMOS, gefolgt von ROUGH MIXES FROM THE VAULT mit Work-In-Progress-Auszügen. Auf jeweils Doppel-Discs breiten sich die Aufzeichnungen LIVE AT THE TROUBADOUR, WEST HOLLYWOOD, CA – MAY 24TH, 1988 (26 Tracks), LIVE AT HAMMERSMITH ODEON, LON­DON, ENGLAND – OCTOBER 10TH, 1988 + RA­­DIO EDITS (22 Tracks) und LIVE AT LONG BEACH ARENA, LONG BEACH, CA – DECEMBER 7TH, 1988 + MORE (19 Tracks) aus.
Als Fundgrube für Diehard-Fans erweisen sich die DVDs: An …AND CAMCORDERS FOR ALL & ONE schließen sich LIVE AT SHORELINE AMPHITHEATRE, MOUN­TAIN VIEW, CA – SEPTEMBER 15TH, 1989 und LIVE AT THE STONE BALLOON, NEWARK, DE – AUGUST 7TH, 1989 an. JUSTICE ON WHEELS, MASA ITO INTERVIEWS, RAW LIVE FOOTAGE klotzt mit seltenen Live-Impressionen und einem Interview-Teil.
8/10
Metallica
…AND JUSTICE FOR ALL (REMASTERED) DELUXE BOX SET
MERCURY/UNIVERSAL