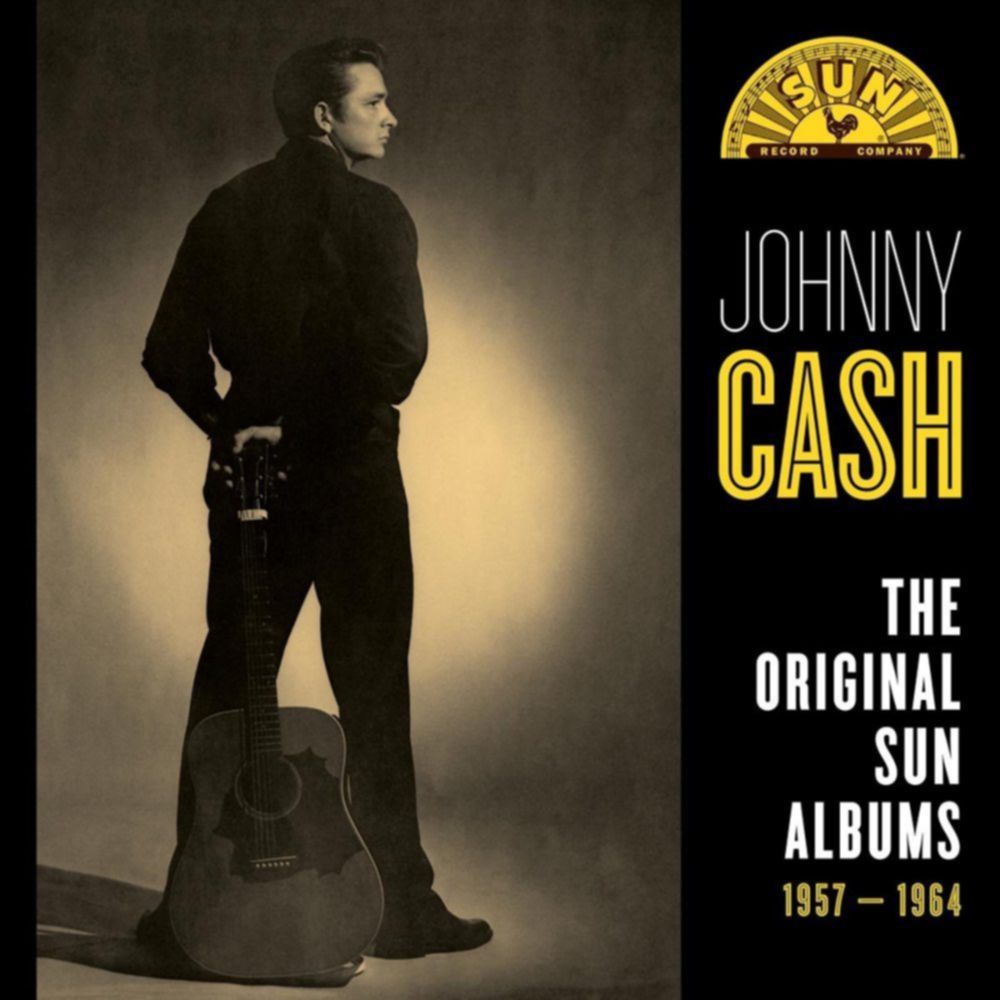 Sieben digital optimierte Originalalben plus Raritäten-CD der Sun-Records-Ära.
Mit der 8-CD-Box THE ORIGI­NAL SUN ALBUMS 1957–1964 samt 60-seitigem Hardcover-Buch schließt sich zum 60. Jubi­läum von Johnny Cashs LP-Debüt eine weitere Lücke: Ein Dutzend Songs zwischen 1954 und 1957 spielte Cash im Gespann mit Gitarrist Luther Perkins, Bassist Marshall Grant und Sun-Label-Eigner Sam Phillips als Produzenten für JOHNNY CASH WITH HIS HOT AND BLUE GUITAR ein, darunter auch Evergreens wie die US-Country-Charthits ›Cry! Cry! Cry!‹, ›So Dog­­gone Lonesome‹ sowie seine erste Nummer 1 ›I Walk The Line‹.
Ein Jahr später, während bereits der neue Vertrag mit Co­­lumbia Records lief, folgte im gleichen Team SINGS THE SONGS THAT MADE HIM FAMOUS mit sechs Country-Top-10-Auskopplungen, davon ›There You Go‹, ›Ballad Of A Teenage Queen‹ und ›Guess Things Happen That Way‹ auf der Pole Position. Mehrheitlich Cover-Ver­sionen von Hank Willi­ams, Charlie Rich, Gene Autry und Roy Orbison enthielt im Januar 1959 GREATEST!. Im September 1960 kam dann SINGS HANK WILLIAMS – ein reichlich irreführender Titel, denn nur vier von zwölf Songs stammten tatsächlich aus der Feder des besagten Country-Pioniers, der Rest von Leon Payne (›I Love You Because‹) und Cash (›Folsom Prison Blues‹, ›Next In Line‹, ›Straight A's In Love‹).
NOW HERE'S JOHNNY CASH griff 1961 mit ›Hey Porter‹, ›Life Goes On‹ und ›Port Of Lonely Hearts‹ abermals auf Archivmaterial der Zeit vor 1958 zurück, das sich teils sogar mit den Vorgängeralben überschnitt. Gleiches gilt für ALL ABOARD THE BLUE TRAIN mit Lead Bellys ›Rock Island Line‹, das von Cash co-komponierte ›Wreck Of The Old '97‹ sowie den Eigenge­wächsen ›There You Go‹, ›Train Of Love‹ und ›Come In Stranger‹. Noch einmal tief in der Kiste wühlte 1964 THE ORIGINAL SUN SOUND OF JOHNNY CASH mit lediglich vier selbstgestrickten Songs (›Country Boy‹, ›Wide Open Road‹, ›Big River‹, ›Belshazzar‹) und gut abgehangenen Standards von Lead Belly (›Goodnight Irene‹), Charlie Feathers (›I Forgot To Re­­member To Forget‹) und Sam Phillips (›Story Of A Broken Heart‹). Ganze 23 Alternativ-Ver­sionen, Raritäten und diverse Outtakes füllen die achte CD.
Johnny Cash
THE ORIGINAL SUN ALBUMS 1957–1964
CHARLY/CARGO