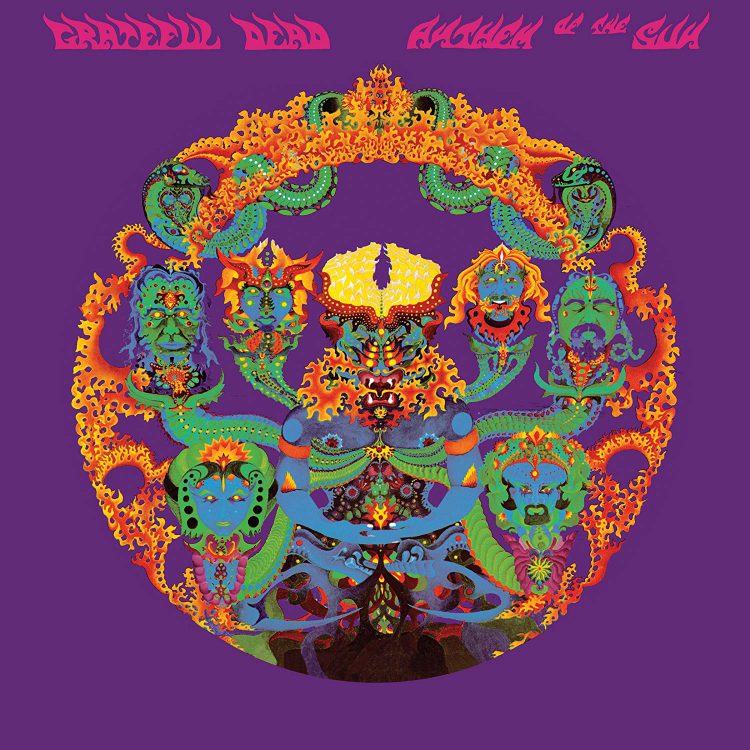 Auf ihrem zweiten Werk präsentierten sich die dankbaren Toten erstmals in Hochform.
Wie wohl keine andere Band der San-Francisco-Szene um 1965/66 verkörperten Grateful Dead die halluzinogene Haight-Ashbury-Gegengesellschaft der aufkeimenden Hippie-Bewegung. Nach dem selbstbetitelten 67er-Debüt mit reichlich Fremdmaterial koppelten sich auf dem Studio/Live-Nachfolger AN­­THEM OF THE SUN wesentlich ambitioniertere Eigenkompositionen von Jerry Garcia, Bob Weir und Co: Eine auf kauzige Art und Weise traditionsbewusste Mixtur aus Beat, Blues, Folk, Country und Psychedelic mit den langen collagenartigen Jams ›That's It For The Other One‹, ›Caution (Do Not Stop On Tracks)‹, ›New Potatoe Caboose‹ und ›Alligator‹, die ein Konzert der Grateful Dead exakt widerspiegelten. In Bob Weirs ›Born Cross-Eyed‹ ertönten gar Mariachi-Trompeten.
Für die 50TH ANNIVERSARY DE­­LUXE EDITION von ANTHEM OF THE SUN addieren sich auf dem Doppel-CD-Set jeweils neue von David Glasser angefertigte Remasters der originalen 68er-Version mit dem bekannteren Mix von 1971. Als Bonus auf einer Extra-CD dient ein zuvor unveröffentlichter Konzertmitschnitt aus dem "Winterland" in San Francisco vom 22. Oktober 1967. Zusätzlich lässt sich von ANTHEM OF THE SUN auch eine auf 10.000 Kopien limitierte Edition als Vinyl-Picture-Disc erwerben.
9/10
Grateful Dead
ANTHEM OF THE SUN 50TH ANNIVERSARY DELUXE EDITION
GRATEFUL DEAD/WARNER