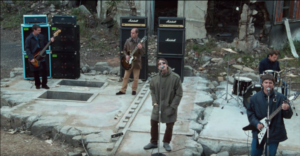 Es gibt ein neue Version des alten Videos zu ›D'You Know What I Mean‹ von Oasis. Seht sie euch hier an!
Am 07. Oktober werden Oasis ihr drittes Studioalbum BE HERE NOW aus dem Jahr 1997 wiederveröffentlichen. Zu dem Track ›D'You Know What I Mean‹ gibt es nun einen neuen Clip, der noch nie zuvor gesehenes Filmmaterial enthält. Der Songtitel bekam den Zusatz "Noel Gallagher's 2016 Rethink" verpasst.
"Bei der Überarbeitung haben wir noch beeindruckendere Mitschnitte der Performance der Band entdeckt, noch epischere Helikopter-Aufnahmen und ein neues Tempo mit viel mehr Drama und Energie als davor", so die Regisseure des Videos Nic Goffey and Dominic Hawley. Sie hätten das Original außerdem von der Qualität her auf den neuesten Stand bringen wollen. Wie ihnen das gelungen ist? Macht euch selbst ein Bild!
Seht hier die neue Version des Videos zu ›D'You Know What I Mean‹ von Oasis: