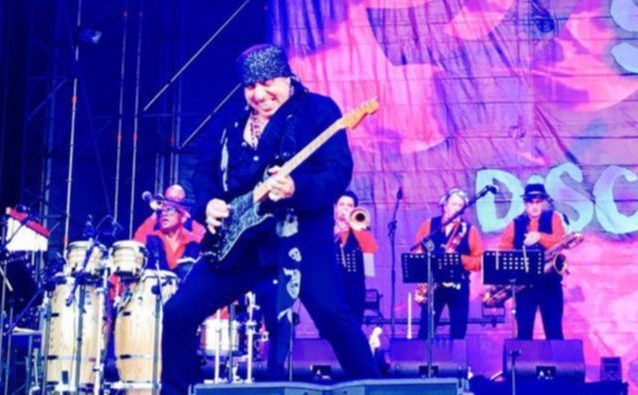 Ende Juli spielt Little Steven mit seinen Disciples Of Soul zwei Konzerte in Deutschland. Im August erscheint das 3CD-Set SOULFIRE LIVE!
Während Bruce Springsteen bei seinen Broadway-Konzerten gerade die Solonummer abzieht, nutzt Kumpel Little Steven die freie Zeit, um an eigener Musik zu arbeiten.
Vergangenes Jahr veröffentlichte der Gitarrist der E Street Band mit SOULFIRE sein erstes Studioalbum seit 18 Jahren, im August folgt nun das Konzert-Album SOULFIRE LIVE! auf drei CDs.
Darauf finden sich neben zahlreichen Songs von der jüngsten Platte Klassiker wie ›I Am A Patriot‹ oder ›Out Of The Darkness‹. Lediglich digital ist SOULFIRE LIVE! bereits jetzt erhältlich.
Seine letzte Show in Deutschland spielte Little Steven mit seiner Begleitband The Disciples Of Soul am 4. Juli in Köln. In wenigen Tagen kehrt das Rockurgestein zurück – präsentiert von CLASSIC ROCK:
Little Steven 2018 in Deutschland:
23.07. Hamburg, Große Freiheit 36
25.07. Karlsruhe, Zeltival
Songliste: SOULFIRE LIVE!
1. Soulfire
2. I'm Coming Back
3. Blues Is My Business
4. Love On The Wrong Side of Town
5. Until The Good Is Gone
6. Angel Eyes
7. Some Things Just Don't Change
8. Saint Valentine's Day
9. Standing In The Line Of Fire
10. I Saw The Light
11. Salvation
12. The City Weeps Tonight
13. Down And Out In New York City
14. Princess of Little Italy
15. Solidarity
16. Leonard Peltier
17. I Am A Patriot
18. Groovin' Is Easy
19. Ride The Night Away
20. Bitter Fruit
21. Forever
22. Checkpoint Charlie
23. I Don't Want To Go Home
24. Out Of The Darkness