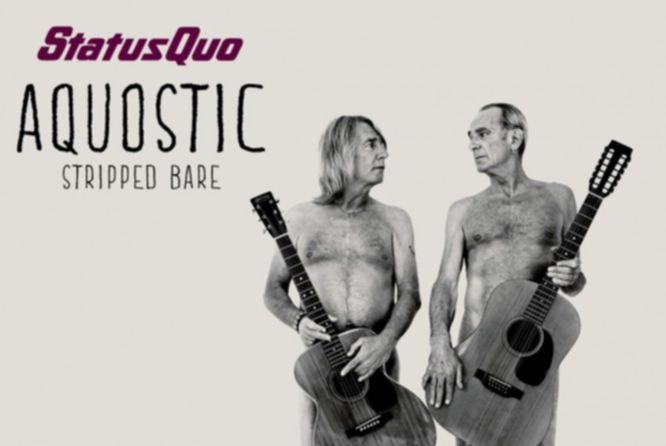 Am 17. Oktober erscheint das rein akustische Album AQUOSTIC (STRIPPED BARE) von Status Quo. Jetzt haben die großen Herrschaften des Boogie'n'Roll ein Video zu ihrer neuen Version von ›And It's Better Now‹ veröffentlicht.
Das neue Album wird neben der ursprünglich von der 1973er Platte HELLO stammenden Auskopplung 24 weitere Klassiker von Status Quo in unverstärkten Fassungen enthalten.
Rick Parfitt über die Songs im Adamskostüm: "Die neuen Arrangements unterscheiden sich deutlich von jenen, die die Quo-Fans bereits kennen. Die Leute werden angenehm überrascht sein."
Sein Kollege Francis Rossi fasst sich kurz: "Das ist wirklich eine fucking gute Platte."
Tracklist:
01. Pictures Of Matchstick Men
02. Down The Dustpipe
03. Nanana
04. Paper Plane
05. All The Reasons
06. Reason For Living
07. And It's Better Now
08. Caroline
09. Softer Ride
10. Claudie
11. Break The Rules
12. Down Down
13. Little Lady
14. Mystery Song
15. Rain
16. Rockin' All Over The World
17. Again and Again
18. Whatever You Want
19. What You're Proposin
20. Rock N' Roll
21. Don't Drive My Car
22. Marguerita Time
23. Rollin' Home
24. Burning Bridges
25. Rock 'Til You Drop
Unsere große Titelstory über Status Quo könnt ihr in der aktuellen Ausgabe von CLASSIC ROCK lesen.
Seht hier das Lyric-Video zu ›And It's Better Now‹: