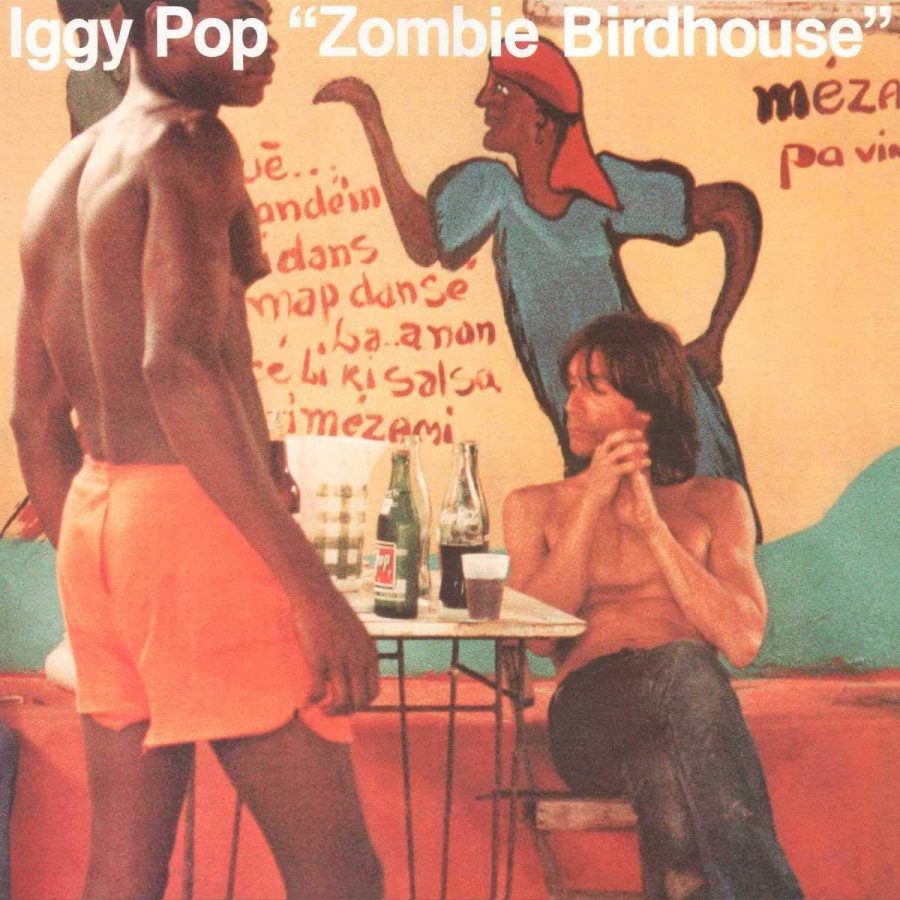 Fressen oder gefressen werden: Mr. Pops famoses sechstes Studiowerk in Vinyl- und CD-Neuauflage.
17 imposante Soloalben zählt die Discographie von Iggy Pop seit Karrierestart mit den von David Bowie produzierten Meilensteinen THE IDIOT und LUST FOR LIFE (beide 1977). Nicht alles brillant, aber stets in stilistischer Vielfalt und mit gelegentlichen Überraschungen ausgestattet. Vor allem aber: Es finden sich keine derben Ausrutscher darunter.
Nach Auslaufen seines Arista-Vertrages nach dem vorzüglichem LP-Triptychon NEW VALUES ('79), SOLDIER ('80) und PARTY ('81) fand Mr. Osterberg in Debbie Harry und Chris Stein von Blondie neue Gönner. Aus der zweiten Hälfte der siebziger Jahre existieren diverse Fotos und Videos, die die Freundschaft des Pärchens mit seinem Idol dokumentieren. Für Pops sechstes Solowerk ZOMBIE BIRDHOUSE, für die Neuversion von Paschal Byrne in den Londoner The Audio Archive klanglich optimiert, übernahm Stein nicht nur auf dem Produzentenstuhl Platz und im Gespann mit Blondie-Schlagzeuger Clem Burke auch instrumentale Aufgaben, sondern veröffentlichte das Ergebnis auf der hauseigenen Marke Animal Records.
Entstanden im Juni 1982 in den Blank Tape Studios, New York City, mit Gitarrist, Keyboarder und Co-Autor Rob Duprey, umflorte das runde Songdutzend wie so viele Pop'sche Alben Zeitlosigkeit. Famose Kracher zwischen Rock, New Wave, Post-Punk und Garagen-Beat wie ›Bulldozer‹, ›The Villagers‹, ›Run Like A Villain‹ und ›Eat Or Be Eaten‹ schüttelte Iggy Pop vor 40 Jahren ebenso locker aus dem Ärmel wie heute, wenn er mit Josh Homme kollaboriert. In › Life Of Work‹ experimentierte er mit einem hypnotischen Elektronik-Loop und der Harmonie des Shantys ›What Shall We Do With The Drunken Sailor‹.
Als Ohrwürmer ließen sich die C & W-Ode › The Ballad Of Cookie McBride‹ sowie die Pophymne ›The Horse Song‹ identifizieren. Authentische Experimente lieferten die Collage ›Watching The News‹ sowie das polyrhythmische ›Street Crazies‹. Als Bonus fügte sich ›Pain And Suffering‹ an.
9/10
Iggy Pop
ZOMBIE BIRDHOUSE
CAROLINE/UNIVERSAL