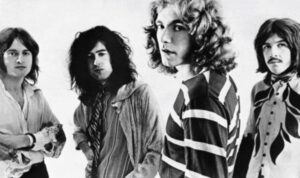 THE COMPLETE BBC SESSIONS wird ab Freitag in den Plattenläden stehen. Jimmy Page wird das Werk schon heute vorstellen und die ganze Welt kann per Live-Stream zusehen und -hören!
Ende Juli berichteten wir bereits, dass am 16. September das Box Set THE COMPLETE BBC SESSIONS mit acht vorher unveröffentlichten Tracks von Led Zeppelin erscheinen wird.
Dieses wird Jimmy Page heute Abend in London vorstellen – und wir alle können ab ca. 20 Uhr per Live-Stream auf der offiziellen Facebook-Seite von Led Zeppelin dabei sein!
Es wird Hörproben aus THE COMPLETE BBC SESSIONS, ein Gespräch mit Page und die Weltpremiere des Videos zu ›What Is And What Should Never Be‹ geben, wie ein Facebook-Post von Led Zeppelin ankündigt.
Hier der Post zum heutigen Event auf der Led Zeppelin-Facebook-Seite :