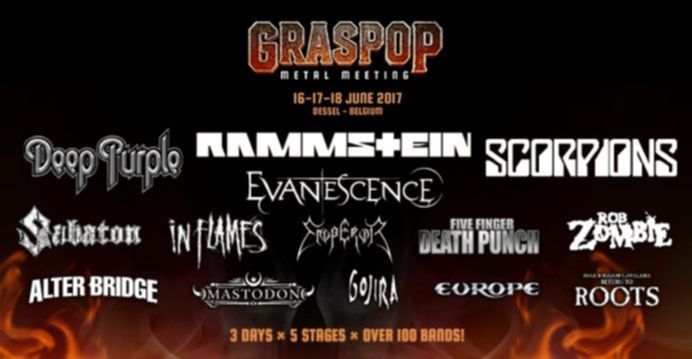 Dieses Festival ist ein Metal-Walhalla für zehntausende Metal-Fans aus der ganzen Welt, in diesem Jahr zum 22. Mal." So heißt es offiziell vom Veranstalter des "Graspop Metal Meeting".
Nun, da das Line-Up komplett ist, kann man getrost bestätigen: Die Organisatoren übertreiben nicht. Neben großen Namen des Metal finden sich diesmal auch zahlreiche Highlights des Classic Rock auf dem Spielplan der belgischen Festival-Instanz.
Zu derart legendären Headlinern wie den Scorpions, Deep Purple und Rammstein gesellen sich an diesen drei Sommertagen Airbourne, Alter Bridge, Axel Rudi Pell, Black Star Riders, Blue Öyster Cult, Clutch, Danko Jones, Europe, Gotthard, Graveyard, Inglorious, Monster Magnet, Rob Zombie, Steel Panther, Slydigs, The Dead Daisies, Ugly Kid Joe, W.A.S.P. u.v.m..
Graspop Metal Meeting, Belgien – Dessel, 16.-18. Juni 2017
Weitere Infos und Tickets gibt es hier …
Gesamtliste der Bands:
A Day to Remember, Airbourne, Alcest, Alestorm, Alter Bridge, Amenra, Amorphis, Anathema, Architects, As It Is, As Lions, Avatar, Axel Rudi Pell, Baroness, Battle Beast, Black Star Riders, Blue Öyster Cult, Brides of Lucifer, Chelsea Grin, Clutch, Code Orange, Coheed And Cambria, Comeback Kid, Crown The Empire, Danko Jones, Decapitated, Deep Purple, DevilDriver, Devin Townsend Project, Emperor, Epica, Europe, Evanescence, Every Time I Die, Evil Invaders, Five Finger Death Punch, Gojira, Gotthard, Grave Digger, Graveyard, Hacktivist, Hardline, Hatebreed, Helmet, In Flames, Inglorious, King's X, Kvelertak, Like A Storm, Mastodon, Max & Iggor Cavalera – RETURN TO THE ROOTS, Mayhem, Melechesh, Memoriam, Meshiaak, Metal Church, Ministry, Monster Magnet, Motionless In White, Northlane, Nothing More, Of Mice & Men, Opeth, Primus, Prong, Psychotic Waltz, Queensrÿche, Rammstein, Red Fang, Rhapsody, Rob Zombie, Rotting Christ, Sabaton, Sanctuary, Scorpions, Sepultura, Shvpes, Sinistro, Slydigs, Solstafir, Steel Panther, SubRosa, Suicide Silence, Suicidal Tendencies, Sum 41, Tarja, The Black Dahlia Murder, The Charm The Fury, The Dead Daisies, The Devil Wears Prada, The Dillinger Escape Plan, The Monolith Deathcult, The Raven Age, Touché Amoré, Tribulation, Ugly Kid Joe, W.A.S.P., While She Sleeps.