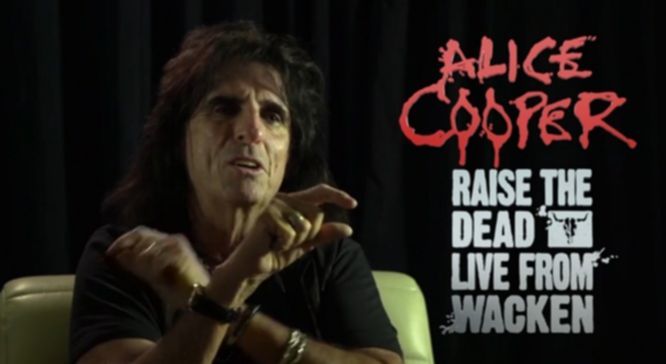 Alice Cooper wird seine letztjährige Show auf dem Wacken Open Air als DVD veröffentlichen. Seht hier den ausführlichen Trailer.
Am 03. August 2013 legte Alice Cooper einen berauschenden Auftritt auf die Bretter der Doppelbühne in Wacken. Gut ein Jahr später soll nun im Oktober der Live Mitschnitt des 22 Songs umfassenden Sets unter dem Namen RAISE THE DEAD – LIVE FROM WACKEN erscheinen.
In einem knapp zehn-minütigen Trailer gibt es bereits jetzt zahlreiche Szenen der Show sowie ausführliche Interviewsequenzen mit Cooper zu sehen.
Cooper zur Show, die er mit einem Theaterstück in drei Akten vergleicht: "Wir gehen nicht raus und denken: 'Gott, hoffentlich wird es ihnen gefallen!' Wir gehen auf die Bühne mit einer wir-packen-euch-an-der-Gurgel-und-lassen-euch-nicht-mehr-los-Attitüde."
Unter den Songs befinden sich auch zahlreiche Cover-Songs von The Doors (›Break On Through‹), The Who (›My Generation‹) und Pink Floyd (›Another Brick In The Wall‹).
Tracklist:
1. Hello Hooray
2. House of Fire
3. No More Mr. Nice Guy
4. Under My Wheels
5. I'll Bite Your Face Off
6. Billion Dollar Babies
7. Caffeine
8. Department of Youth
9. Hey Stoopid
10. Dirty Diamonds
11. Welcome to My Nightmare
12. Go to Hell
13. He's Back (The Man Behind the Mask)
14. Feed My Frankenstein
15. Ballad of Dwight Fry
16. Killer
17. I Love the Dead
18. Break on Through
19. My Generation
20. I'm Eighteen
21. Poison
22. School's Out / Another Brick in the Wall
Seht hier den Trailer zu RAISE THE DEAD – LIVE FROM WACKEN: