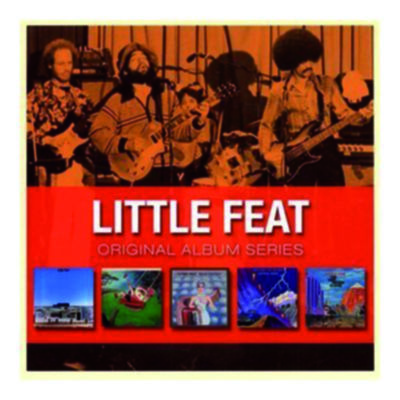 Die Heldentaten von Lowell George und Co brachten selbst Mick Jagger und Keith Richards ins Schwärmen.
Wer in den frühen siebziger Jahren Inter-views mit den Rolling Stones tätigte, musste sich auf ungewohnte Lobhudelei gefasst ma-chen: Vor allem Mick Jagger und Keith Richards betrieben ungeniert Werbung für Little Feat. Geholfen hat der unerwartete Push von prominenter Seite allerdings nicht. Lediglich zu Kritikerlieblingen brachte es das von  Ex-Mothers-Of-Invention Roy Estrada und dem 1979 verstorbenen Gitarristen, Sänger und Komponisten Lowell George gegründete Quartett, obwohl es ab 1971 fünf exzellente Alben in Serie schaltete: Die Wurzeln aus Blues, Rock, Folk und Country beschwor das selbstbetitelte Debüt um den Jahrhundertsong ›Willin'‹. Beim Nachfolger SAILIN' SHOES konkurrierten Rock-Hymnen wie ›Teenage Nervous Breakdown‹ und ›Tripe Face Boogie‹ mit einer optimierten Neuversion von ›Willin'‹.
In erweiterter Sextett-Besetzung und mit Soul-Anleihen erschien 1973 DIXIE CHICKEN mitsamt exzellenten Songs wie ›Two Trains‹, ›Fat Man In The Bathtub‹ und ›Fool Yourself‹. In Richtung New Orleans blickte ein Jahr später auch das nach Fats Wallers Klassiker FEATS DON'T FAIL ME NOW betitelte vierte Werk mit solchen Stern-stunden wie ›Rock And Roll Doctor‹,  ›Oh Atlanta‹ und ›Skin It Back‹.
Mit ›Romance Dance‹, ›Long Distance Love‹ und ›Down Below The Borderline‹ von
THE LAST RECORD ALBUM nahmen Little Feat dann schließ­lich Kurs in Richtung Jazz-Rock.
Little Feat 8
Sailin' Shoes 9
Dixie Chicken 10
Feats Don't Fail Me Now 10
The Last Record Album 10